BORN HUNGRY: JULIA CHILD BECOMES "THE FRENCH CHEF"
by Alex Prud'homme
illustrations by Sarah Green
Calkins Creek, 2022
review copy provided by the publisher
"No one is born a great cook, one learns by doing." Julia Child was tall and loud and eager to learn to be a good cook. She learned the importance of taking "time and care" in choosing the best ingredients (making friends with the butcher, baker, and cheese maker) and in creating her dishes. Most of all, she encouraged her students, her TV fans, and her cookbook readers to have fun! What a great role model! For more images and quotes, see this review at Jama's Alphabet Soup.
BLAST OFF! HOW MARY SHERMAN MORGAN FUELED AMERICA INTO SPACE
by Suzanne Slade
illustrated by Sally Wern Comport
Calkins Creek, 2022
review copy provided by the publisher
Although she didn't start school until she was eight, Mary fell in love with science first, and chemistry later. She broke through gender barriers to get a job at North American Aviation developing rocket fuels. She was given the job of developing the fuel that would take a rocket into space. After several failures, she succeeded, and the rest is history! Mary Sherman Morgan is a role model for following your passion.
NELLIE VS. ELIZABETH: TWO DAREDEVIL JOURNALISTS' BREAKNECK RACE AROUND THE WORLD
by Kate Hannigan
illustrated by Rebecca Gibbon
Calkins Creek, 2022
review copy provided by the publisher
Did you watch the recent PBS version of AROUND THE WORLD IN EIGHTY DAYS? I was fascinated by their remake of Jules Verne's story, and even more fascinated by the real-life story of two very different woman journalists, one outgoing and bold (Nellie Bly) and one quiet and reserved (Elizabeth Bisland) who raced to make it around the globe in just seventy-five days. Both had grand adventures and broke all kinds of stereotypes about what women could and should do.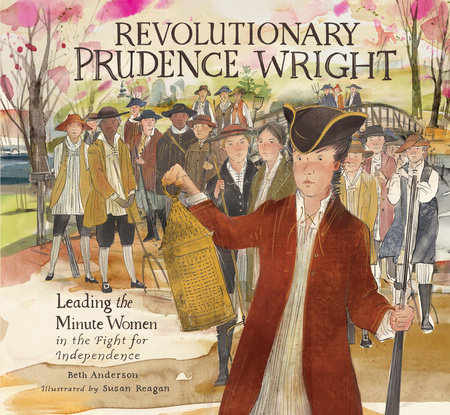 REVOLUTIONARY PRUDENCE WRIGHT: LEADING THE MINUTE WOMEN IN THE FIGHT FOR INDEPENDENCE
by Beth Anderson
illustrated by Susan Reagan
Calkins Creek, 2022
review copy provided by the publisher
The men of Pepperell, MA took big actions in the fight for independence, but Prudence led the women of Pepperell in small actions that formed "a pattern of rebellion:" burning British tea and making their own with local herbs, spinning their own cloth rather than depending on British cloth, using maple syrup instead of British sugar. "Prudence could live with inconvenience and additional work. But she couldn't live with unjust laws and stolen rights." A role model attitude for our times. Prudence even rallied the women to catch a Tory spy crossing the bridge that led into Pepperell.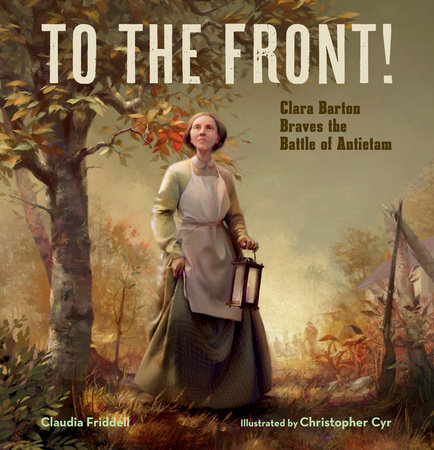 TO THE FRONT! CLARA BARTON BRAVES THE BATTLE OF ANTIETAM
by Claudia Friddell
illustrated by Christopher Cyr
Calkins Creek, 2022
review copy provided by the publisher
This innovative biography in verse blends Clara Barton's words with the words of the author. We've heard her called "The Angel of the Battlefield," but this biography brings Barton's heroic actions to life. This book would be a good one to pair with images of all of the aid organizations currently working on the ground in Ukraine and those helping refugees in Poland and elsewhere across Europe. Clara Barton is a role model for compassion and determination.